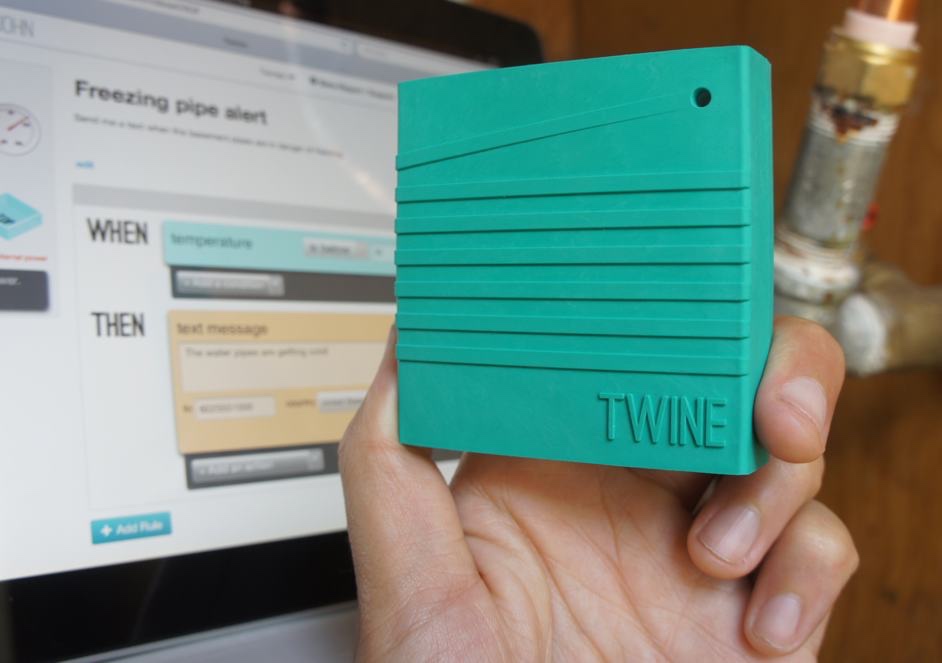 Twine was the first consumer Internet-of-Things product. It alerts you to small problems before they become big problems. Quick Wi-Fi setup and AAA batteries that last up to 3 months let you drop Twine anywhere you want to monitor temperature, vibration and orientation. Additional sensors detect floods, leaks, opened doors, and signals from your other home systems. Tell a web app what to listen to with simple rules, and you'll get notifications and peace of mind via email, SMS, Twitter and more.
How it works
Twine is a 2.7" square sensor integrated with a cloud-based service. The durable, rubbery block has Wi-Fi, on-board temperature and orientation sensors, and an expansion connector for other sensors. Power is supplied by micro USB or two AAA batteries.
The Twine web app makes it simple to set up and monitor your Twines from a browser anywhere. You set rules to trigger messages — no programming needed. The rules are put together with a palette of available conditions and actions, and read like normal sentences: WHEN moisture sensor gets wet THEN text "The basement is flooding!"
Because the hardware and software are made for each other, setup is easy. There's nothing to install — just point Twine to your Wi-Fi network. Sensors are immediately recognized by the web app when you plug them in, and it reflects what the sensors see in real time, which makes understanding and testing your rules easy.
Technical
Industrial design, mechanical engineering, front end design and coding (HTML, CSS, Backbone, Javascript), half of the back end (Python, Tornado, PostgreSQL, AWS), copy, packaging, identity.
Press: Wall Street Journal, Engadget, Wired, Better Homes & Gardens, etc. In concert with David Carr and David Clift-Reaves.